Sale!
woodmart theme
WoodMart is a cutting-edge WooCommerce WordPress theme designed to provide seamless and captivating online shopping experiences. Developed by Xtemos, this premium theme offers a versatile solution for businesses of all sizes, enabling them to build stunning and functional e-commerce websites.
With its responsive design, WoodMart ensures that the online store looks great and functions flawlessly across various devices, including desktops, tablets, and smartphones. Its mobile-friendly approach caters to the growing trend of mobile shopping, enhancing customer engagement and conversion rates.
The theme's standout feature is its extensive collection of pre-built demos, each tailored to different industries and niches. These demos serve as excellent starting points for users, offering a quick and easy way to set up their online stores with just a few clicks. Users can then customize the design, colors, typography, and layout using the intuitive and powerful theme options panel, which requires no coding skills.
WoodMart integrates the popular WPBakery Page Builder, enabling users to create custom page layouts through a simple drag-and-drop interface. This flexibility allows for creative freedom and empowers users to design unique storefronts that align with their brand identity.
To provide a smooth and fast user experience, WoodMart leverages AJAX technology for browsing, filtering, and product loading. Customers can enjoy quick view options to preview product details without navigating away from the main shop page, streamlining the shopping process.
Furthermore, the theme includes various useful features such as product variation swatches, off-canvas shopping cart, megamenu support, and wishlist and compare functionalities. These features enhance the overall functionality and engagement, making the online shopping journey more enjoyable for customers.
WoodMart's dedication to SEO best practices ensures that the website is search engine friendly, contributing to better search rankings and increased organic traffic. Additionally, the theme comes with reliable customer support and comprehensive documentation to assist users with any inquiries.
In conclusion, WoodMart is a powerful and user-friendly WooCommerce WordPress theme that caters to the diverse needs of e-commerce businesses. Its feature-rich design, customization options, and performance optimization make it an excellent choice for anyone looking to create a visually captivating and efficient online store
Description
WoodMart – Responsive WooCommerce WordPress Theme: A Comprehensive Review
Introduction:
In the ever-growing world of e-commerce woodmart theme , having an efficient and visually appealing online store is crucial for businesses to succeed. WordPress has emerged as one of the most popular platforms for building websites, and with WooCommerce as its powerful e-commerce plugin, it becomes an even more formidable choice. To make the process easier, various WordPress themes have been developed, and one of the prominent ones is WoodMart – a responsive WooCommerce WordPress theme that aims to provide a seamless online shopping experience. In this comprehensive review, we will explore the features, functionalities, design, performance, and overall user experience offered by WoodMart.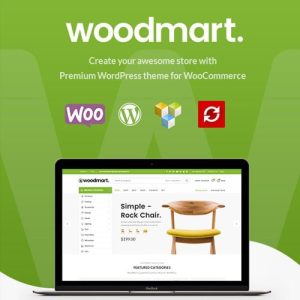 Overview of WoodMart:
WoodMart is a premium theme developed by Xtemos, designed specifically for WooCommerce-based online stores. It was first released in 2017 and has since garnered a considerable user base due to its versatility and user-friendly nature. The theme offers a wide range of customization options, making it suitable for different types of online businesses, such as fashion, electronics, furniture, cosmetics, and more. woodmart theme
Key Features:
a. Responsive Design: With the rise in mobile shopping, having a responsive website is crucial. WoodMart provides a mobile-friendly design that adapts to various screen sizes and devices, ensuring an optimal shopping experience for customers on smartphones and tablets.
b. Extensive Demos: WoodMart comes with a plethora of pre-built demo websites for different industries and niches. These demos serve as a great starting point for users, allowing them to quickly set up their online store with just a few clicks.
c. Powerful Theme Options Panel: The theme offers a user-friendly options panel, giving users complete control over the appearance and functionality of their website. Users can easily customize colors, typography, layouts, and more without any coding knowledge.
d. Drag and Drop Page Builder: WoodMart is integrated with the WPBakery Page Builder (formerly known as Visual Composer), a popular drag-and-drop page builder that allows users to create custom layouts effortlessly.
e. AJAX Powered Features: The theme utilizes AJAX technology to provide seamless and fast browsing, filtering, and product loading, enhancing the overall user experience.
f. Product Variation Swatches: WoodMart includes attractive and customizable product variation swatches, allowing customers to view different product options without leaving the main shop page.
g. Off-Canvas Shopping Cart: The off-canvas cart feature provides a smooth and unobtrusive shopping experience, allowing customers to easily view and edit their cart contents without leaving the current page.
h. Quick View: Customers can quickly preview product details without navigating away from the main shop page, saving time and improving user engagement.
i. Megamenu: The theme supports a fully customizable megamenu, enabling users to create visually stunning navigation menus with ease.
j. Product Wishlist and Compare: WoodMart integrates wishlist and compare functionalities, enhancing customer engagement and allowing them to keep track of their desired products.
Design and Customization:
WoodMart boasts an impressive selection of design elements, layouts, and styles that cater to different industries and aesthetics. Users can choose from various header styles, unlimited color options, and multiple layout variations to create their desired storefront. Additionally, the ability to import and customize demos gives users the flexibility to design their websites according to their preferences.
The integration with the WPBakery Page Builder enables users to easily customize page layouts by dragging and dropping elements, further enhancing the theme's design capabilities. However, some users might find the need for additional third-party plugins to unlock certain design features, which could impact the overall cost and performance of the website.
Performance:
In terms of performance, WoodMart manages to strike a balance between aesthetics and speed. The theme is optimized for fast loading times and provides a smooth user experience, thanks to its AJAX-powered features and lazy loading functionality. However, heavy customization and the addition of resource-intensive plugins might slow down the website, and users should be cautious while adding too many elements that could negatively affect performance.
SEO Friendliness:
Search Engine Optimization (SEO) is crucial for any online store to rank higher in search engine results. WoodMart is designed with SEO best practices in mind, ensuring that websites built with the theme have a good chance of ranking well on search engines. Users can also further optimize their pages by using popular SEO plugins like Yoast SEO or Rank Math.
Support and Documentation:
As a premium theme, WoodMart offers customer support to assist users with any issues they may encounter during setup and customization. Additionally, the theme comes with comprehensive documentation, including video tutorials, to guide users through the installation and configuration process.
Pricing:
WoodMart is a premium theme, and its pricing varies based on the license type and support period. The cost might be a concern for some users, especially those just starting their e-commerce journey. However, the wide range of features and customization options provided may justify the investment for businesses looking to establish a strong online presence.
Conclusion:
WoodMart is undoubtedly a robust and versatile WooCommerce WordPress theme that offers a plethora of features and customization options. Its extensive demos, responsive design, and performance optimization make it a worthy choice for online businesses looking to create a visually appealing and user-friendly e-commerce website. However, users should carefully consider their specific requirements and budget before making a decision, as the theme's extensive features and premium pricing might not be suitable for every situation. Nonetheless, WoodMart continues to be a popular choice among WordPress users seeking a reliable and feature-rich solution for their online stores.