Sale!
WordPress Avada Theme
Avada Theme: An Exemplary Responsive Multi-Purpose Theme
Introduction:
In the ever-evolving world of web design, having a versatile and reliable theme is crucial for building successful websites. The Avada Theme, developed by ThemeFusion, stands as a frontrunner in the market of WordPress themes due to its exceptional flexibility, powerful features, and user-friendly interface. Launched in 2012, the Avada Theme quickly gained popularity and has since become one of the best-selling WordPress themes of all time. This comprehensive review aims to delve into the aspects that make Avada stand out from the crowd as a responsive multi-purpose theme. avada theme purchase.
Design and Visual Appeal:
Avada offers an awe-inspiring design with an extensive library of professionally crafted demos and layouts that cater to various niches. The theme's creators have invested considerable effort in ensuring that each demo is visually stunning and adaptable to any industry or concept. The intuitive Fusion Builder allows users to easily customize layouts by dragging and dropping elements, making the design process seamless even for beginners.
Responsiveness and Mobile-Friendly:
In today's mobile-centric world, responsive web design is no longer an option; it's a necessity. Avada is built with mobile responsiveness in mind, ensuring that websites created with the theme look and function flawlessly on all devices. The adaptive nature of Avada ensures optimal user experiences regardless of screen size, leading to increased engagement and better SEO rankings.
Feature-Rich Functionality:
One of Avada's strongest selling points is its extensive set of features that cater to various needs. From advanced typography options to custom widgets and post formats, the theme offers a wealth of options to enhance website functionality. Avada integrates popular plugins like WooCommerce for e-commerce functionality and includes premium plugins like Slider Revolution and LayerSlider for stunning image carousels.
Fusion Builder and Fusion Core:
Avada employs its own proprietary Fusion Builder, a front-end page builder that makes the website-building process a breeze. The builder's user-friendly interface allows users to see real-time changes as they design their pages. Additionally, the Fusion Core plugin serves as the backbone of the theme, providing essential functionality and ensuring a smooth experience.
Unlimited Customization Options:
Avada is designed to be a highly customizable theme, catering to both developers and non-developers alike. With its plethora of options, users can customize virtually every aspect of their website, including colors, fonts, layouts, and more. The extensive theme options panel ensures that users have complete control over their website's look and feel. avada theme purchase
Performance and Optimization:
The Avada Theme is built with performance in mind, and the developers continuously work on improving its optimization. Although feature-rich, Avada is designed to maintain fast loading times and minimize server requests, contributing to better overall website performance and user experience.
SEO-Friendly:
A website's search engine ranking is crucial for attracting organic traffic. Avada's clean code and well-structured layout contribute to its SEO-friendliness. Additionally, the theme is compatible with popular SEO plugins, allowing users to further optimize their websites for search engines.
Dedicated Support and Extensive Documentation: avada theme purchase
ThemeFusion offers top-notch customer support, assisting users with any queries or issues they may encounter. Their support team is highly responsive and knowledgeable, ensuring that users can make the most of Avada's features. Moreover, the theme comes with comprehensive documentation, tutorials, and video guides, making it easy for users to navigate and utilize all the theme's capabilities.
Regular Updates and Security:
Security is paramount in the digital world, and Avada's developers are committed to providing regular updates to ensure that the theme remains secure and compatible with the latest versions of WordPress and plugins. Regular updates also introduce new features and improvements, ensuring that Avada stays relevant and up-to-date in the ever-changing landscape of web design. avada theme purchase
Conclusion:
In conclusion, the Avada Theme shines as a responsive multi-purpose theme, catering to a wide range of website projects with its impressive design, extensive features, and easy-to-use interface. Its commitment to optimization, mobile-friendliness, and SEO, coupled with the dedicated customer support, make it a go-to choice for both novice website builders and experienced developers. As the web design industry continues to evolve, Avada has proven its worth as a reliable and versatile theme that stands the test of time. Whether you're building a portfolio, e-commerce site, corporate website, or any other online presence, Avada is undoubtedly a theme that warrants serious consideration. avada theme purchase
Description
Avada – Responsive Multi-Purpose Theme is a highly popular and versatile WordPress theme.
that has gained immense recognition in the web development community. With its user-friendly interface and powerful features, Avada has been trusted by millions of website owners, designers, and developers around the globe to create stunning and functional websites. In this comprehensive review, we will delve into the various aspects of Avada, exploring its design capabilities, customization options, performance, support, and more.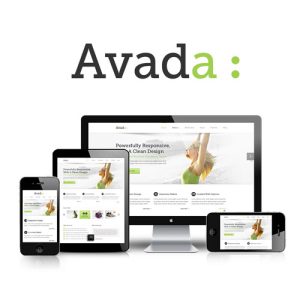 Versatility: Avada's main strength lies in its adaptability to a wide range of website types and purposes. Whether you are building a blog, portfolio, corporate website, online store, or a creative agency platform, Avada provides the necessary tools and design elements to cater to your specific needs. avada theme purchase
Responsive Design: Avada is built with responsiveness in mind, ensuring that your website looks and functions flawlessly on various devices, including desktops, laptops, tablets, and smartphones. This feature is essential in today's mobile-first world, as search engines favor mobile-friendly sites.
Intuitive Page Builder: Avada comes equipped with its own Fusion Builder, which is an intuitive drag-and-drop page builder. This tool allows users to create complex layouts and stunning designs without any coding knowledge.
Pre-Built Demos: To jumpstart your website development process, Avada offers a vast library of pre-built demos across different niches. These demos provide a starting point for your website and can be easily customized to suit your branding and content requirements.
Customization Options: With Avada, you have granular control over various design elements, such as colors, fonts, layout styles, and more. The extensive customization options empower you to create a unique and personalized website.
Fusion Core Plugin: Avada leverages the Fusion Core plugin, which extends the theme's functionalities. This plugin adds essential features and tools that enhance the overall user experience.
Third-Party Plugin Compatibility: Avada is designed to be compatible with numerous third-party plugins, allowing you to integrate various functionalities seamlessly into your website.
WooCommerce Integration: For those looking to set up an online store, Avada provides seamless integration with WooCommerce, the leading WordPress e-commerce plugin.
Premium Sliders: Avada includes popular premium sliders like Revolution Slider and Layer Slider, enabling you to create captivating and interactive presentations on your website.
SEO Optimization: Avada is developed with SEO best practices in mind, ensuring your website has a solid foundation for search engine visibility and ranking. avada theme purchase
Speed Optimization: Speed is crucial for website performance and user experience. Avada is optimized for fast loading times, helping you retain visitors and improve your search engine rankings.
Translation Ready: If your target audience is multilingual, Avada is translation ready, allowing you to easily create a website that supports multiple languages.
Multi-Lingual Support: Beyond translation readiness, Avada also supports popular multi-lingual plugins, making it easier to build a truly international website.
Extensive Documentation: Avada offers detailed documentation that guides users through the setup and customization process. This documentation is helpful for both beginners and experienced developers.
Video Tutorials: To cater to different learning preferences, Avada provides a collection of video tutorials that demonstrate various aspects of using the theme effectively.
One-Click Updates: Avada's one-click update feature ensures that you can easily keep your theme and plugins up to date, benefiting from the latest improvements and bug fixes.
Regular Updates and Improvements: The Avada team consistently releases updates and improvements, reflecting their dedication to enhancing the theme's functionality and security.
Reliable Support: Avada provides dedicated customer support to assist users with any queries or issues they encounter while using the theme.
Active Community: Avada has a large and active community of users who exchange ideas, share tips, and provide assistance through various forums and social media groups.
Child Theme Support: For developers who want to make advanced customizations without affecting the core theme, Avada supports child themes, ensuring your modifications remain intact during updates.
Retina Ready: Avada ensures that your website's images and graphics look sharp and crisp on high-resolution devices, providing an enhanced user experience.
Accessibility Ready: Avada takes accessibility seriously and is designed to meet accessibility standards, making your website inclusive to users with disabilities.
Header and Footer Builder: Avada includes an intuitive header and footer builder, enabling you to create customized headers and footers that match your website's overall design.
Mega Menu Support: For websites with extensive content and multiple sections, Avada's mega menu support allows you to create large, organized menus with dropdowns.
Icon Library: Avada incorporates an extensive icon library, giving you access to a wide range of icons to use throughout your website.
Font Awesome Integration: Avada comes with built-in Font Awesome icon support, providing even more icon options for your site's design elements.
Parallax Effects: Avada allows you to add eye-catching parallax effects to various elements on your website, enhancing its visual appeal.
CSS3 Animations: Avada offers CSS3 animations that you can apply to different elements, giving your website a modern and dynamic feel.
Custom Backgrounds: Avada enables you to set custom backgrounds for different sections of your website, allowing you to achieve a unique and engaging look.
Slider Backgrounds: Avada lets you use image sliders as backgrounds for sections, adding a dynamic and interactive touch to your web pages.
Video Backgrounds: Want to make your website more engaging? Avada supports video backgrounds, allowing you to use videos as section backgrounds.
Header Options: Avada offers multiple header styles and options, giving you the flexibility to design a header that aligns with your brand identity.
Footer Options: Just like the header, Avada provides several footer styles and customization options to ensure your website's footer complements the overall design.
Blog Layouts: Avada offers various blog layout options, allowing you to showcase your blog posts in different styles to suit your content presentation preferences.
Portfolio Layouts: If you are showcasing a portfolio on your website, Avada provides various portfolio layout options to display your work in a visually appealing manner.
Testimonial Styles: Avada includes different testimonial styles to help you showcase customer feedback and build credibility.
Form Styling: Avada allows you to customize the look and feel of your forms, ensuring they match your website's design and branding.
Social Media Integration: Avada supports easy integration with social media platforms, allowing visitors to share and engage with your content effortlessly.
Contact Form Options: Avada provides customizable contact forms that can be tailored to meet your specific communication needs.
Google Maps Integration: For businesses with physical locations, Avada supports Google Maps integration, making it easy for visitors to find you.
Custom Widgets: Avada comes with a set of custom widgets that add various functionalities and features to your website's sidebars and widget areas.
Portfolio Filtering Options: Avada's portfolio filtering options enable users to quickly sort and find specific projects or works in your portfolio.
One-Page Website Support: If you prefer a one-page website, Avada offers the option to create a smooth scrolling single-page design.
High-Quality Image Options: Avada provides image optimization options, allowing you to compress and optimize images for better performance and faster loading times.
SEO-Friendly URLs: Avada generates SEO-friendly URLs, making it easier for search engines to understand and rank your content.
Related Posts: Avada includes a related posts feature, helping to keep visitors engaged by suggesting similar content they might find interesting.
Sidebar Layouts: Avada offers multiple sidebar layout options, giving you control over how your content is presented alongside widgets and other elements.
Lightbox Integration: Avada integrates with lightbox plugins, enabling you to showcase images, videos, and galleries in a modern and elegant way.
Typography Options: With a wide range of typography options, Avada allows you to choose from numerous fonts and customize font sizes, weights, and styles.
Shortcode Generator: Avada features a shortcode generator that simplifies the process of adding complex elements to your pages without touching any code.
Breadcrumbs Navigation: Avada supports breadcrumbs navigation, which improves user experience and aids in website navigation.
Smooth Scrolling: Avada incorporates smooth scrolling functionality, ensuring a seamless and enjoyable scrolling experience for visitors.
Custom CSS: For advanced users and developers, Avada includes an area to add custom CSS, enabling you to make precise design modifications.
Custom JavaScript: Just like custom CSS, Avada offers a section to add custom JavaScript code for further customization and advanced functionalities.
Mega Submenu: Avada's mega menu option allows you to create large, content-rich submenus with multi-column layouts.
Side Navigation: If you prefer a side navigation layout, Avada provides options to create stylish side menus for your website.
Slider Revolution Integration: In addition to other premium sliders, Avada offers seamless integration with Slider Revolution, giving you more choices for creating sliders.
Layer Slider Integration: Similarly, Avada's integration with Layer Slider adds another powerful slider option to your toolkit.
Smooth Page Transitions: Avada supports smooth page transitions, making the navigation between different pages on your website seamless and visually appealing.
Header Sticky Options: Avada lets you choose whether your header remains fixed at the top of the screen as users scroll down, improving navigation accessibility.
Boxed and Wide Layouts: You can easily switch between boxed and wide layout options in Avada to adjust the overall width of your website.
Custom Sidebars: Avada allows you to create custom sidebars for different sections or pages, tailoring your content presentation for specific needs.
Interactive Elements: Avada supports interactive elements like buttons, tooltips, and pop-ups, enhancing user engagement and interactivity.
Image Frames: Avada offers various image frame styles, allowing you to add borders and frames to your images for a distinctive look.
Built-in Mega Menu Icons: Avada provides built-in icons for mega menus, making it easier to enhance the visual appeal and user-friendliness of your navigation.
Light and Dark Versions: Some pre-built demos in Avada come with light and dark versions, giving you a choice of different color schemes.
Sticky Sidebars: In addition to sticky headers, Avada enables sticky sidebars, ensuring important content remains visible as users scroll.
Back to Top Button: Avada includes a back-to-top button that appears when users scroll down, allowing them to return to the top of the page with ease.
Infinite Scroll: To improve user experience and encourage further exploration, Avada supports infinite scroll for blog and portfolio pages.
Custom Maintenance Page: When your website is undergoing maintenance or updates, Avada allows you to create a custom maintenance page for visitors.
WooCommerce Product Layouts: Avada offers various product layout options for your WooCommerce shop, providing flexibility in how you showcase your products.
Icon Boxes: Avada lets you create stylish icon boxes to highlight key features, services, or advantages of your products or services.
Custom Button Styling: With Avada's custom button styling, you can create unique and eye-catching buttons that match your branding.
Extensive Documentation: Avada includes detailed documentation to guide users through the installation, setup, and customization process.
Community Forum: Avada has an active community forum where users can seek help, share experiences, and exchange ideas.
Regular Theme Updates: Avada consistently releases theme updates to improve security, performance, and compatibility with the latest WordPress version.
Single-Page Navigation: Avada supports single-page navigation, allowing you to create a seamless user experience on one-page websites.
Image Galleries: Avada provides various gallery styles, including masonry, grid, and justified layouts, to showcase your images in an appealing manner.
Advanced Typography: Avada's advanced typography options let you fine-tune fonts, line heights, letter spacing, and more for a polished look.
Google Fonts Integration: With Google Fonts integration, Avada offers an extensive library of web-safe fonts to enhance your typography.
Social Sharing Options: Avada incorporates social sharing buttons, enabling visitors to easily share your content across social media platforms.
Custom Archive Pages: Avada lets you customize archive pages for categories, tags, and other taxonomies to create unique layouts.
Built-in Image Lightbox: Avada includes a built-in image lightbox that displays images in a sleek overlay when clicked.
Portfolio Categories: For portfolio websites, Avada supports portfolio categories to organize and display projects based on different criteria.
Portfolio Tags: Alongside categories, Avada offers portfolio tags to provide further granularity in sorting and filtering projects.
Animated Counters: Avada enables you to add animated counters to showcase statistics, achievements, or milestones in a visually appealing way.
Image Hover Effects: Avada offers various image hover effects to add interactive and dynamic elements to your images.
Creative Buttons: With Avada's creative buttons, you can design eye-catching buttons with unique shapes and animations.
Progress Bars: Avada lets you add progress bars to visualize achievements, skill levels, or completion statuses.
Pie Charts: For data representation, Avada supports pie charts, making it easy to showcase percentages and ratios in a visually appealing manner.
Count-up Elements: Avada includes count-up elements to display animated numerical values that increase as users scroll down the page.
Pricing Tables: Avada's pricing tables enable you to showcase different pricing plans or packages in a comparative format.
Advanced Blog Options: With Avada, you can customize various blog settings, such as the number of posts per page, featured images, and excerpt lengths.
Image Carousel: Avada's image carousel feature lets you create interactive carousels that showcase multiple images or logos in a slide format.
Progress Steps: For processes or step-by-step guides, Avada supports progress steps, adding a visually engaging element to your content.
Content Timeline: With Avada's content timeline, you can present information chronologically, making it ideal for storytelling or historical content.
Team Members: If you have a team or staff, Avada provides a team members element to introduce team members with their roles and social links.
WooCommerce Product Quick View: To enhance the shopping experience, Avada offers a product quick view feature, allowing users to preview product details without leaving the shop page.
Product Zoom: Avada's product zoom feature enables users to zoom in on product images for a closer look.